Violin Lessons in Amsterdam Damvibes
Violin lessons: Beginners to Advanced
✓ First trial violin lesson at home or at the teacher's studio FOR FREE
✓ First Music School in Amsterdam with violin lessons also at home!
✓ Violin teachers certified by Conservatories in the Netherlands and Europe
✓ Learn how to play the violin in all music styles!
✓ Optionally, include violin music sheet reading and music theory
*Only trial lessons at our installations have a fee of 15€
Send a Gift Card with a pack of violin lessons!
We send a Gift Card to someone you love! It includes a pack of music lessons!
Violin teachers in Amsterdam Damvibes
Violin lessons for kids & adults
Have your lessons at the music school, at your place or at the teacher's studio!

Teresa - Live & online violin Lessons
✓  International violin performer and teacher
✓  Bachelor studies at Pôle Supérieur de Paris
✓  Master studies at Conservatorium van Amsterdam
Prices of our violin lessons in Amsterdam
How much does a violin lesson in Amsterdam cost?

✓ 2-4 Violin students
✓ Location: Atlantisplein 1
✓ Trial lesson: 15€

Individual Lessons:
Try our price calculator 👉
Individual Lessons:
Try our price calculator 👇
✓  At our building (Atlantisplein 1)
✓  At the Violin Teacher's Studio
✓  At your place

Price Calculator*
Individual lessons
*Your teacher might add an additional fee
Frequently asked question on our violin lessons
📍 Where in Amsterdam are the violin lessons located?
Our violin lessons are given at our music school in Atlantisplein 1 (QFactory building) but also we offer violin lessons at your place or at the teacher's studio!
🎼 What kind of violin lessons do you offer?
We offer violin lessons for both kids and adults and perfectly customizable to meet your needs and expectations. Learning violin may include, theory, technique and repertoire. 
🎓 Who are your violin teachers?
We are pleased to say that our violin teachers are certified and graduated from different conservatories in the world and awarded on music competitions, scholarships. But not only that, our teachers are extraordinary good and enthusiastic people, take a look at their Curriculum Vitae's!
💰 What are the prices of your violin classes?
Our violin lessons cost 35€/hour for students under 22 years old or 42 for students older than 22 years old. We also add 5€ extra for travelling to your place. And, of course, you and your teacher will decide the length and time of the lesson so it adapts to your needs and schedule. No worries!
🧐 How much should violin lessons cost?
We think are prices are actually cheap, as our violin teacher is always going to be an international performer trained and graduated from the best conservatories in Europe!
🕒 How many months does it take to learn violin?
We are afraid to say that producing a professional sound in the violin take years! But don't panic yet, for sure, you can make it sound quite well, playing songs after a few months!
💰 Is it expensive to learn violin?
You already know the prices of taking violin lessons in Amsterdam, but you should also know that nowadays you can find very cheap violins to start with, so don't worry about that, there's always time to upgrade to a better violin!
Reviews on our Music Academy Amsterdam Damvibes
See what our students say about our music lessons!
Already more than 100 face-to-face music students and 2000 online students from our Youtube Channel have had lessons in Amsterdam Music School Damvibes. Thank you very much for trusting us!
How to play the violin: for begginers in Amsterdam
Parts of the violin:

Meet your instrument
Before you get your hands on a violin you should learn more about your instrument and its parts. If you are a complete beginner student in Amsterdam, you'll love to learn more about the "Violin parts Diagram" we prepared for you.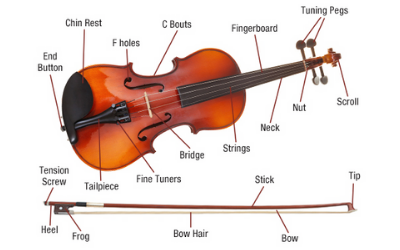 How to play violin:

Step by step
As a beginner violin student in Amsterdam Damvibes School, you will have to learn how to play the violin from scratch. Let's just see a few examples of what you will be working on:
How to hold the violin? – left and right hand
How to play violin scales?
How to tune the violin strings?
How to play violin vibrato?
How to play violin chords?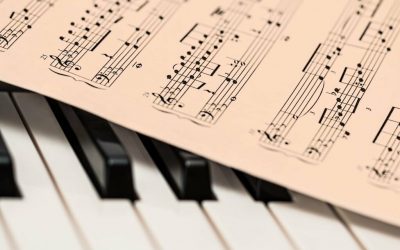 Sheet music for violin:

How to read?
How to learn violin notes? This a a very common question asked from our violin students. Luckily for you, violin lessons in Amsterdam Damvibes may include solfege, rhythm, entonation, so you can have the most complete music education. Moreover, if you learn how to read sheet music for violin, you'll learn pieces way faster!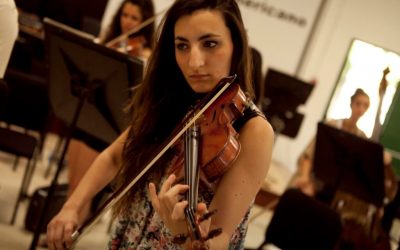 How to play violin fast?:

Violin technique
Sometimes, violin technique is understimated, and this is a big error. A bad violin technique may derive into an injury to both amateur and professional players, but also make you play violin faster and be more efficient when learning a piece. Moreover, a good technique can produce a better and more beautiful sound, especially in string instruments such as the violin. Read more about violin technique in this article.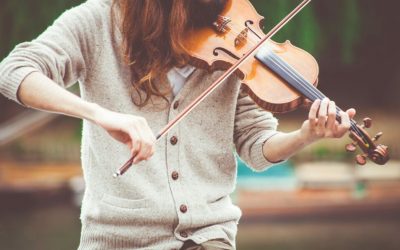 Hi there! I'm violin teacher in Amsterdam Damvibes
Violin classes near Westerpark or near Central Station

Teresa - Live & online violin Lessons
✓  International violin performer and teacher
✓  Bachelor studies at Pôle Supérieur de Paris
✓  Master studies at Conservatorium van Amsterdam
Methodology of my classes
Violin lessons for kids and adults
I think the most important thing about learning music and violin is to feel free and to be in a peaceful atmosphere. During my teaching experience for the past 6 years I've always adapted to the needs of my students.

We create a save environment together that allows the student develop himself as a musician and learn the violin technique with a real consciousness of the posture and the sound.
My Curriculum as a Violin Teacher and Performer
2013-Present
Teresa has started to teach private lesson in 2013 and has developed a lot of teaching skills. She is able to adapt herself to all profiles, from beginners to more advanced students. I've learned my teaching skills with a famous violin pedagogue in Paris. I have experience with children and adults. Teresa believes that music theory can be learned also with the instrument, and learning to sing is really important to learn music. She can adapt to the need of every student and offer the quality of teaching that they need.
2021-Present
Violin teacher in Amsterdam Music School Damvibes
Chamber Music

Teresa has been playing in many different chamber music groups during her studies. In 2019 she obtains a professional string quartet diploma in the conservatory. She has played in many different halls such a la Philharmonie de Paris.
Furthermore, she is member of Le Bestiaire, chamber music ensemble based in France, with whom she is able to develop all her musicality. 
Orchestral background
Teresa has always been really interested by the orchestra from a very young age. She has been member in different young orchestras in Spain and in France. She has also experience in playing with different professionals orchestra such as Rotterdam Sinfonia or Orchestre National d'Île de France.
2000-2012
Violin studies in Conservatory of Valencia (Spain)
2016-2019
Official studies at Conservatoire Régional de Paris
2016-2019
Bachelor studies at Pôle Supérieur de Paris
2019-2020
Pre master studies at Koninklijk Conservatorium Den Haag
2020-2022
Master studies at Conservastorium van Amsterdam
Languages of my violin lessons
Spanish – Native
English – Fluent
French – Fluent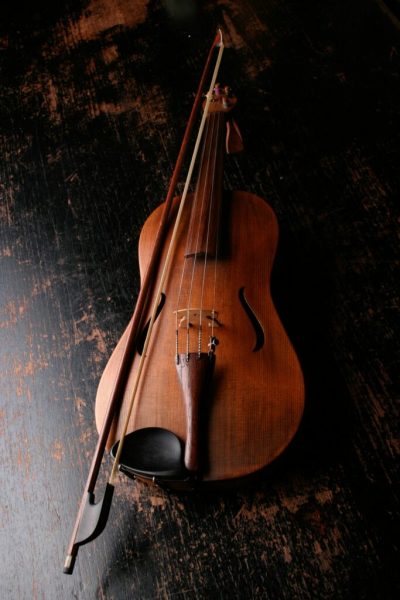 Violin courses

in Amsterdam & online
Amsterdam Music School Damvibes offer violin courses and masterclasses in which students may complement their weekly  lessons. Stay tuned!