Cork Music School Damvibes
Music lessons for Kids and Adults - Beginner to Advanced
🏠 Cork Music School Damvibes offers music lessons at the teacher's studio or at home!
🎓 Our music teachers in Cork are graduated by the main Conservatories in Europe
📚 Learn music in all music styles - individual & group lessons
📝Optionally, learn sheet music reading and music theory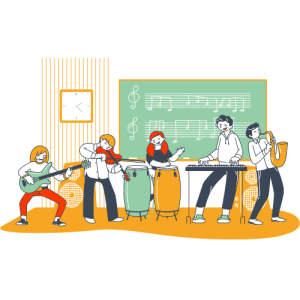 Lessons in Cork Music School Damvibes
Music Teachers in Cork Music School Damvibes
We are proud to say that our Music Instructors in Cork are experts graduated from the best Conservatories in Europe. Moreover, they combine their professional and artistic career with their pedagogical labour. Just get amazed by their biographies and CV's!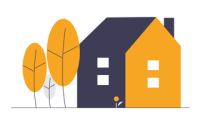 Cork Music School Damvibes brings your music classes at your place, so you don't need to worry about dislocating!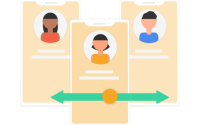 Damvibes chose our music tutors strategically along the Cork map, so the location doesn't become a problem!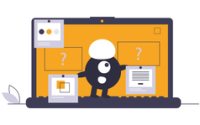 Most of our music teachers in Cork are equipped and prepared for providing online lessons in a professional way
How does Cork Music School work?
You just need to choose a music teacher and fill in a quick form in less than 1 minute. We recommend you take into account variables such as location or specialties.
One of our music teachers will get in touch with you as soon as they can, generally, it will take up to 24 hours for them to contact you. Then, you both agree on the day/time of the trial lesson
Get 30% discount on your first music lesson in  Cork! The trial lesson is 30 minutes long. Just make sure you process the payment 24 hours before the lesson. Enjoy your first trial!
At the beginning of the month you'll receive a payment email (payment in advance). But the best of all, you can pick as many lessons as you like, no minimum required!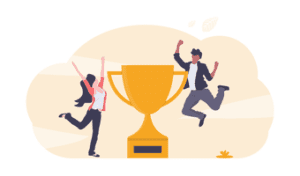 Happy students talk about Cork Music School Damvibes!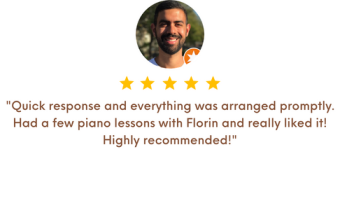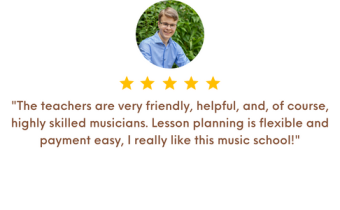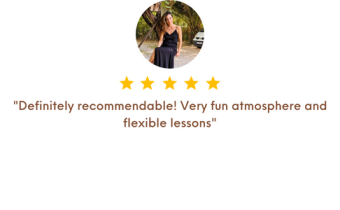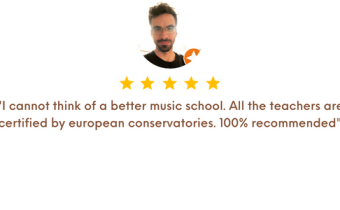 Prices of our Music courses in Cork
Individual and group Music lessons for kids and adults
Who can apply to Cork Music School Damvibes?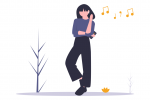 Music lessons for children and teenagers in Cork
Our music lessons are carefully designed for kids, this way, kids learn music the best way possible; having fun!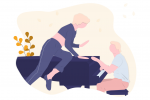 Music lessons for adults in Cork
Who said adults can't learn music? Our music lessons are aimed for adults aswell. In fact, half of our students are adults!
FAQ over our music classes in Cork 
👩‍🏫 Who are our music teachers in Cork
Our music teachers in Cork are professional musicians and graduated from the best conservatories in Europe and we carefully choose them in order to provide the best music education possible!
🎵 What kind of music lessons does Cork music school provide?
Cork Music School Damvibes offers individual and group lessons for kids and adults of all ages and levels
🏠 Where is Cork Music School?
We are not a common music school, we are better than that! Our music school provides lessons all along the Cork's map, and that's because we don't want the location and schedule become a problem. All our music teachers have a studio available for the classes!
🎓 Is Cork Music School Damvibes offering a music degree?
Cork Music School Damvibes does not offer a music degree, and that's because we believe that every single student is different and requires a special, and customized music tutoring
Other Music Schools in Cork City
Music academies recommended by Damvibes
We believe that music education should reach every corner of Cork City, that's why hereby we recommend other music schools that could be ideal for certain type of students.
Cork City Education Training Board School of Music
CETB offers instrumental teaching programs in both Classical and Traditional Irish Music styles, as well as an exciting portfolio of orchestras, ensembles, bands and other musical activities. As an inclusive school, they are committed to reaching out to communities to improve the quality of life for young people, they have partnered with 33 schools, organizations and centers across the county to reach a registered population of over 2.500 students.
MTU Ceol - Scoil Chorcaí | Cork School of Music
As Ireland's premier conservatory, MTU is an institution that offers students music and performing arts classes. All students receive a thorough practical and theoretical education in a fun and empowering learning space. The school has professionals specialized in conservatories and international institutions, providing students with quality teaching, motivation and a lot of responsibility in classes.
The school was founded in 1994 to respond to a social need in the northern part of the city. Along its way, the school has served more than 2000 students through a holistic approach, allowing and offering more freedom to students, improving their self-esteem, self-confidence and demonstrating their musical abilities.
Other Music Schools in Cork City