Are you a beginner and want to learn how to play the guitar in Rotterdam?
First things first:

Parts of the guitar
If you were thinking of learning to play guitar at Rotterdam Damvibes, you should probably start by taking a look at the parts of a guitar, as you will be using a different technique for almost every part. But, what will you learn?
I encourage you to do a quick search: guitar body, pickguard, fretboard, strings, body, neck, tuners, headstock and frets and familiarize yourself with all the parts, so you can start playing the guitar as soon as possible!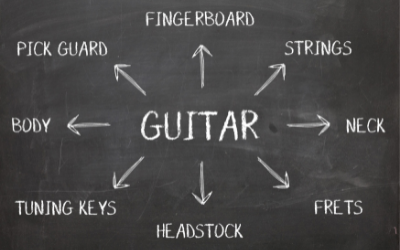 How to read guitar notes?:

Tablature and guitar music scores
When learning to play guitar at Rotterdam Guitar School Damvibes, one of the most important aspects is learning to read guitar sheet music, or more commonly called 'tablature'. Why? Because learning a new language will allow you to analyze, build and play melodies and chords efficiently.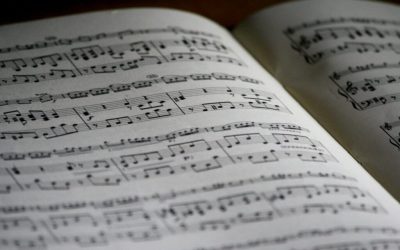 Play millions of songs right away:

Learn how to play Guitar Chords
Do you already know the guitar chords? The best thing about learning all the guitar chords is that you can play millions of songs in the blink of an eye. Many songs have the same chord scheme, or rather, the same chord sequences. In addition, there are mainly 4 types of chords and 90% of the time you will only see two types of them, and also, each type of them has a certain pattern, that is, if you learn a pattern, you can practically play all of that kind.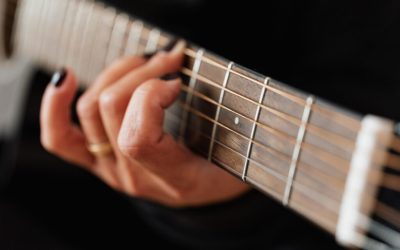 How to play the guitar faster?

: Learning Technique
The technique of the guitar is very similar to any instrument. It is based on relaxation. From there, there are different techniques that you can use to play the guitar with different sounds and textures, but there is also a global technique that allows you to play the guitar faster more easily and without tension, thus avoiding unexpected injuries due to poor technique application. Luckily for you, all of our guitar teachers in Rotterdam know these aspects very well.