Violin Lessons in Brussels Damvibes
Violin lessons in Brussels 100% customizable!
✓ First trial violin lesson at home or at the teacher's studio FOR FREE
✓ First Music School in Brussels with violin lessons also at home!
✓ Violin teachers in Brussels certified by Conservatories in Belgium and Europe!
✓ Learn how to play violin in all music styles
✓ Optionally, include violin sheet music reading and theory
Violin teacher in Brussels Damvibes
Individual and group violin lessons for Kids and Adults!

Inés - Face-to-face violin Lessons
✓ International violin performer
✓ Bachelor's Degree at "Castilla y León Conservatory" 
✓ Master Studies at "Conservatory of Brussels"
Prices of violin courses in Brussels
Individual & Group violin lessons for kids and adults
Frequently asked question on our violin lessons
💰 How much does violin lessons usually cost?
This answer will depend where you live. Violin lessons in Brussels, given by one of our teachers may vary a little bit. The prices of our violin lessons will also depend on the location of the lessons, but you can expect a range of 25-40€/lesson. Group violin lessons are 95€/month
🎻 How many months does it take to learn violin?
Every professional violinist will tell you that learning how to play violin is something that simply never ends. You can expect to be playing some easy violin songs within the first weeks, that for sure!
🤷 Is violin hard to teach yourself?
Learning how to play violin by yourself is difficult for one simple reason; you won't have anyone to correct your finger technique or entonation. That's why having a very good violin teacher in Brussels is crucial for your violinistic development!
📍 Where in Brussels are the violin lessons located?
Our violin lessons may be given at your place or at the teacher's studio
🎼 What kind of violin lessons do you offer?
We offer violin lessons that are 100% customizable; group lessons or individual lessons. In case of individual violin lessons you can also decide its length (30-45-60 min)
🎓 Who are your violin teachers?
We are proud to say that our only violin teacher has been carefully choosen, and has overcome a very strict filter of selection. All our teachers are certified officially. And, of course, our philosophy will always be "More quality, less quantity", as simple as taking a look at her wonderful Curriculum Vitae
Students on Brussels Music School Damvibes
See what our students say about our music classes

"This music academy is great, I learned how to play piano and percussion in 1 month!" – Anne

"I have been learning how to play drums since 3 years ago, now I can play difficult pieces!" – Florent

"Brussels Music School is exciting, we recorded a videoclip with our piano teacher" – Gyrsellia

"I love singing The Beatles, my teacher and I sing together for 45 minutes and learn solfege 15 minutes per week!" – Claire

"I wanted to have music lessons because I love singing. Brussels School of Music Damvibes is super!" – Katie

"When I moved to Brussels I definetely wanted to have music classes like I used to have, we had a trial lesson and my mom and I just loved it!" – Olivier
Learn how to play the violin: for begginers in Brussels
A tour:

Parts of the violin
In order to learn how to play the violin, first you want to know its parts, so you can apply a different technique to each of the parts. But don't worry, before you start your violin lessons in Brussels you can take a look at "Parts of the Violin Diagram", so you can have a first impression.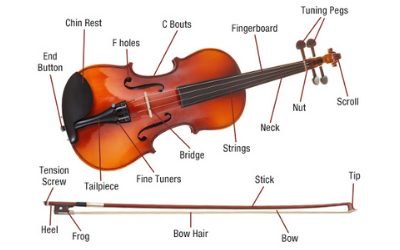 How to play violin:

as a beginner
As a beginner violin student in Brussels Music School Damvibes, you will have to learn how to play the violin step by step, this is to say, practicing different exercises for different purposes. For instance; 
How to hold the violin? – left and right hand
Learn how to play scales on the violin: finger setting
How to tune your violin strings?
Vibrato: Learn how to play "beautiful"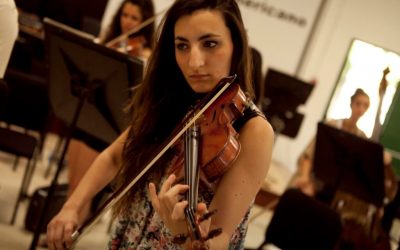 How to play violin:

Sheet Music and Notes
Is it difficult to learn how to read violin sheet music? Well, at the beginning it takes a while, as every different language, but once you start recognizing the notes on a violin sheet music, you'll going to start learning pieces much much faster. How do I practice music sheet reading? You have tons of app's out there, most of them work the same. One tip that will help you: It's much more important to recognize the distance between two notes than guessing each note separately!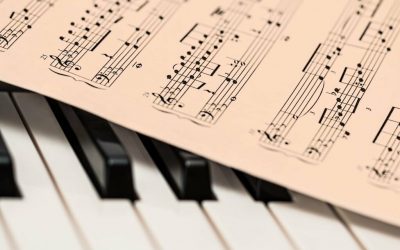 Learn how to play violin fast:

Technique
Sometimes, violin technique is understimated, and this is a big error. A bad violin technique may derive into an injury to both amateur and professional players. Moreover, a good technique can produce a better and more beautiful sound, especially in string instruments such as the violin. Read more about violin technique in this article. But, how do I play violin faster? One interesting tip: The less movement you do in order to get to the next position, the faster you will play. Same goes when you just move your fingers. Sometimes it's better to not "articulate" so much your movements!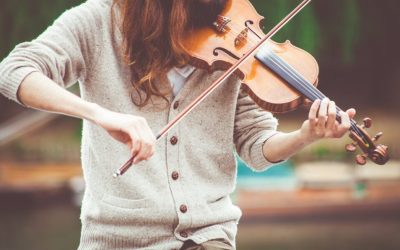 Send a Gift Card with a pack of violin lessons!
A pack a music lessons is a great present!
Hi! I'm violin teacher in Brussels Music School Damvibes
Violin lessons in Brussels may be given at your place or at the teacher's studio!

Inés - Face-to-face violin Lessons
✓ International violin performer
✓ Bachelor's Degree at "Castilla y León Conservatory"
✓ Master Studies at "Conservatory of Brussels"
Methodology of my violin classes in Brussels Music Academy
Violin lessons for kids and adults
Violin lessons Methodology for kids:
After more than 5 years teaching kids, I have a few methods and books to use for general purposes. Then, as every kids is unique, I adapt the content of my violin lessons according to my students' needs and likes. Furthermore, I believe in group music education as a powerful tool to develope musical and social skills, that's why once a week I like to gather all my students for small violin orchestra, where every kid has his/her own role and takes an important part of the lessons.
Violin lessons Methodology for adults:
Having a variety of music styles as violin exercises is very important. Apart from basic technical exercises, my violin lessons for adults are personalized and designed according to the needs and likes of the students. 
My Curriculum as a violin Teacher and Performer
2021-present:
Violin teacher at Damvibes Music School in Brussels
2019-present: 
Private violin teacher in Brussels Experience with all type of levels (beginner and intermediate players) and all ages (children and adults).
2017:
Private violin teacher in Spain,  teaching violin for kids and adults of all levels.
Inés have participated in great number of events, tours and festivals. The most important music events are:
2020 – present
– Member of National Youth Orchestra of Spain (JONDE).
2017-2019
Guest violinist in Youth Orchestra of Cannary Islands(JOCAN), conducted by Víctor Pablo Pérez.
2015-2017
Member of Youth Orchestra of Madrid Region (JORCAM)
2010
She participated in the V festival of contemporary music "Smash Ensemble", premiering Branche, for violin and electronics, by Grégoire Lorieux.
2019
She participated in the China tour 2018-2019, playing in Shanghai, Jincheng, Taiyuan, Tianjin, Shunde, Kunming, Changyi and Zibo.
2018
She participated in the Bandart project, conducted by Gordan Nikolic and Goran Gribajcevic.
2017
– She participated in Festival de Arte Sacro de Madrid 2017.
– She participated in the premiere of the ballet "Carmen", by Víctor Ullate's company, conducted by Manuel Covés.
2016
She participated in the String orchestra of the JORCAM, conducted by the violinist Ana María Valderrama.
2016-2017
She collaborated with Orquesta de la Comunidad de Madrid (ORCAM) in the first concert of the season 2016-2017
2018-2020:
Master in violin performance at Koninklijk Conservatorium Brussel with Zygmunt Marek Kowalski.
-She studied baroque violin (optional subject) with François Fernandez and Joanna Huszcza.
2014-2018
She studied Bachelor in violin performance at Conservatorio Superior de Castilla y León (COSCyL) with Karolina Michalska.
2005-2014
Student at Conservatorio Profesional de Salamanca with Andrés Balaguer Gasch.
Spanish – native
English – Fluent
French – intermediate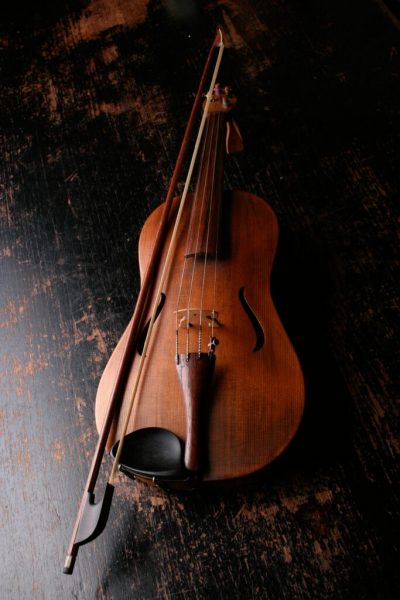 Brussels Music School Damvibes offer violin courses and masterclasses in which students may complement their weekly  lessons. Stay tuned!